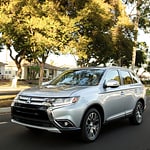 In truth, there is more to the road than appearance and functionality. Above all else, a ride has to feel right first. Thus, with a soft spot for comfort, Valley Imports Mitsubishi is always on the lookout for monumental interior innovations. As it stands, the Mitsubishi Outlander is easily one of the most comfortable creations on the market. To experience the embodiment of coziness on wheels, just check out these lavish perks:
The whole entire family can fit inside this uniquely spacious vehicle for blissful scenic outings in Fargo. In fact, the remarkably accommodating third row has been stylishly redesigned to facilitate even more roominess and relaxation.
Power lumbar support accentuates the luxuriousness brilliantly. Each passenger can manually modify the settings to fine-tune the positioning of their seat to precision. This amazing system presents next-level spinal relief, and it can feel like an absolute miracle during a long drive.