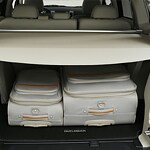 Buying a vehicle is a big step and we want you to be an informed shopper who will get the best buy for your money. We want you to not only know what you're buying but also to be happy with your purchase. Crossovers have become very popular choices for drivers who want the comfort of an SUV with the economy and style of a car. Come to Valley Imports Mitsubishi to learn a few of the many reasons why people buy crossovers.
• Various options – Crossovers offer many options not available in full-size SUVs
• More affordable – Because crossovers require fewer parts than SUVs, they're cheaper to build.
• Better fuel economy – They offer better gas mileage than a traditional SUV.
• Comfort – Crossovers offer a more comfortable ride than SUVs.
When you're ready to take the plunge and check out some crossovers, come to our dealership in Fargo, and allow us to put you behind the wheel for a test drive.