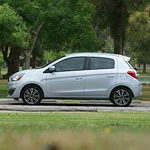 When you are looking at the Mitsubishi Mirage, you will realize that not everything in the car is small. This is a popular subcompact vehicle that has a warranty aimed at impressing its owners. This demonstrates that the manufacturer stands behind its product, and this is welcome news for drivers.
The outer panels are made of durable sheet metal. To demonstrate their staying power, new owners will receive an anti-corrosion and perforation limited warranty that is good for seven years or 100,000 miles. You will get your metal panels replaced during that time if they fall victim to normal corrosion.
Most of the parts on a new Mitsubishi Mirage are also covered by a five year or 60,000-mile limited warranty. Covered parts will be repaired or replaced if you find that they become defective during the warranty period. Valley Imports Mitsubishi would be more than happy to arrange a test drive of the Mirage for you.