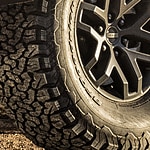 Off-Roading can be one of the most fun ways to drive your truck or SUV. However, you will want to make sure that you have the right gear before you go on your next off-road trip. Here is what you will need.
All-Terrain Tires

There's a good chance that you have street tires on your truck or SUV. While that is ideal for everyday driving, you will want all-terrain tires that will give you a better grip on various types of terrain.

Off-Road Equipment

? You will also want to make sure that you have the right equipment that will come in handy in case you get into a difficult situation. That equipment includes front & rear recovery points, either tow hooks or D-ring shackles, a tow strap, roll bar or cage, jack & basic tools, fire extinguisher, a full-size spare tire, and some form of communications such as a CB.
You can find top off-road tires and equipment at Valley Imports Mitsubishi at competitive prices.