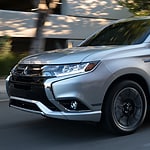 The power of plug-in hybrids has arrived at a new pinnacle via the technologically astute Mitsubishi Outlander PHEV. Valley Imports Mitsubishi is proud to recognize automotive greatness in all of its forms, and Fargo is bound to be wowed by this stunning ride's outstanding electronic capabilities.
To ensure longevity on the road, you can easily locate a professionally installed DC Fast Charging Station. With the availability of these facilities, an 80% capacity can be reached within 25 minutes. At home, a regular 120V outlet can get the battery to a full charge within eight hours. Amazingly, Mitsubishi's Remote Control app effortlessly keeps drivers in tune with their energy status.
Rich audio quality is crafted by the righteous Mitsubishi Power Sound System (MPSS). With eight top-notch speakers intricately positioned to maximize acoustic resonance, balanced distribution generates heightened musical delivery. This decadently crystalline arrangement demonstrates flawless specifications with refreshing simplicity.